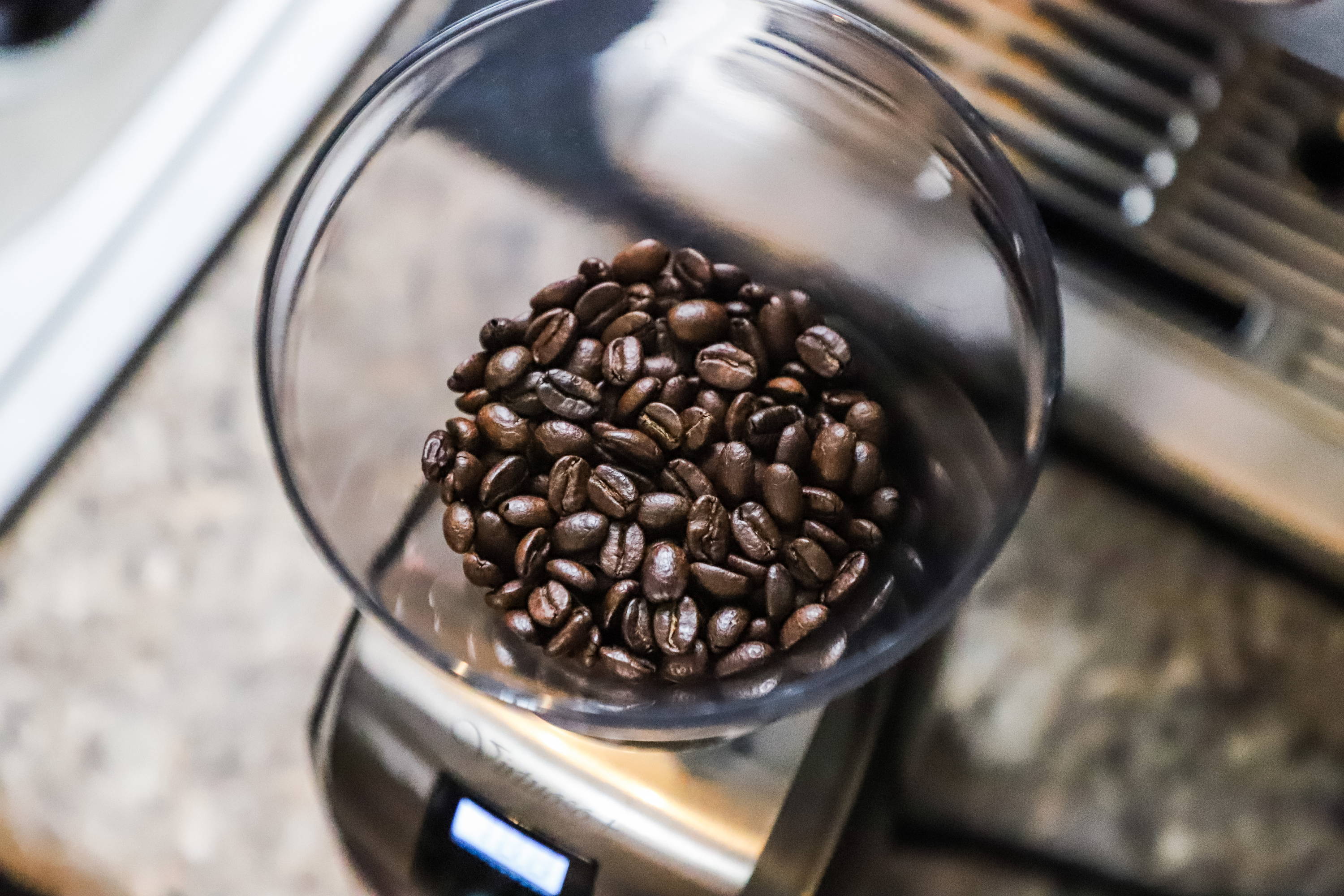 Why you need a coffee grinder
Having a great coffee grinder will elevate your at home brewing experience. The best coffee from home starts with having a grinder that will lead you down the path towards liquid gold.
A quick search on Amazon will most likely give you 1 million results (might be a slight exaggeration), and leave you overwhelmed and more confused than when you started.
We have been there and that is why we created this list of the Top 5 Coffee Grinders In 2021. We will give you details on each one, but if you don't feel like reading (we understand), simply scroll to the bottom to see our top 5 list.
One thing you should know before reading any further is that there are two different types of grinder:
Burr Grinder

- Burr grinders typically come at a higher price, but are definitely worth the investment. A Burr grinder ensures that you will get an even grind and can be used for any way you brew coffee.
Blade Grinder

- Blade grinders are often cheaper, but chop up beans vs actually grinding them. If the only way you make coffee is by using a reusable K-Cup a blade grinder might be okay for you. However, you will still get a better extraction from your Keurig/Single serve machine using a burr grinder. Fun Fact: If you have a blade grinder you don't have to get rid of it, it can still be useful for making your own spices.
It will come at no surprise that our top 5 grinders are all burr grinders. We will list them in descending order, but all of these grinders will elevate your home brewing experience.
The KRUPS Precision grinder is a great price ($44.99), produces a uniform grind, but makes sacrifices when it comes to cleanability, and fine grinding for espresso.
For this grinder, KRUPS uses a flat burr to ensure whatever grind size you choose, comes out perfect. It is compact and weighs just over four pounds which makes it perfect for counters with little room.
KRUPS offers 12 different grind sizes, but its fine setting is quite fine enough to make great espresso. The coffee container that receives the ground beans becomes dirty immediately due to its clear plastic casing. The coffee bean container has the same issue, so if you don't want to do a deep clean every time you grind your beans this might not be for you.
Pro: Great value; Compact; Easy to Use
Con: Hard to Clean; Noisy; Poor Grind For Espresso
The Cuisinart DBM-8 burr grinder ranked at number four on our list due to its affordability ($59), 18 grind settings, and user friendly construct.
This grinder is a great option for people just getting into grinding their beans, and for individuals not wanting to grind for espresso. When used on an espresso grind setting the result is a powder vs a fine grind.
This machine is noisy, and is difficult to clean, so if you are someone who likes to change the types of beans you use often you may want to keep scrolling.
Finally, this grinder offers an electric timer that automatically shuts off the grinder when the cycle is complete, ensuring you get the right amount of grounds and consistency you are looking for (minus espresso). If you are interested in exploring the world of coffee, and the various ways to make it we have much better options below.
Pro: Affordable, 18 Grind settings
Con: Noisy; Poor Grind for Espresso, Hard to Clean
Breville Smart Grinder Pro
The Breville Smart Grinder Pro will take your home coffee brewing to the next level with limitless potential, an electronic timer, and the ability to grind directly into a portafilter, the provided container or your own sealable container.
The Smart Grinder pro may be intimidating to beginners at first with an electronic interface that allows you to adjust grind size, grind time, and the amount of shots or cups that you need.
This grinder has a metal casing which makes it not only durable but sleek looking as well. It includes a grinds container that you can grind directly into and has the ability to give you an air tight seal keeping your grounds fresh.
The higher price tag ($199), is absolutely worth the price no matter how you enjoy your coffee. This grinder is excellent for espresso with its built in portafilter function, and is user friendly enough regardless of your experience level.
Pro: 60 Grind Settings, Timer, Grind Direct to Portafilter
Con: Expensive, Intimidating for beginners at first
Baratza has won multiple Specialty Coffee Association Awards for their products and we can see why. The Baratza Encore has been labeled as "The number one entry level grinder" by many people within the coffee community. At this price point ($139) it is a great place to start when getting into grinding your own beans, but is also versatile enough for experienced coffee grinders.
The Encore is easy to use, has 40 grind settings and produces a very consistent grind. It is durable, user-friendly, has a sleek look and will not take up too much room on your counter.
There is a lot of debate on if this grinder is good for espresso shots, and that depends on the type of coffee consumer you are. The Vitruoso Plus (below), will offer a superior grind for espresso if that is your main way of consuming coffee.
It is important to note that there is no timer associated with this grinder which can lead to grinding too much coffee, but this issue can be avoided by weighing your beans before grinding.
Pro: Price, User Friendly, 40 Grind Settings
Con: No timer, slow grind, Messy
The Baratza Virtuoso Plus is the home grinder of all grinders. It has 40 grind settings, and the burrs in this machine are commercial grade resulting in durability and grind ability. Although the Virtuoso comes in at a higher price ($249) than all the other grinders on the list, this grinder is worth the investment.
It doesn't matter what type of grind size you need for your brew, the Virtuoso will give it to you in pristine fashion. From cold brew to espresso, you can grind with confidence knowing this grinder will elevate your coffee experience.
This grinder also comes with a digital timer, and offers a backlit grounds container. If you want to grind in the dark, you can grind in the dark! The digital timer helps ensure you do not grind too much coffee resulting in waste.
The Virtuoso offers a lot of flexibility, but isn't overwhelming no matter what your coffee grinding experience is. It is durable and you can grind with confidence knowing the Virtuoso will only benefit your coffee consuming experience.
Pro: Digital Timer, Superior Grind, Durable
Con: Higher Price