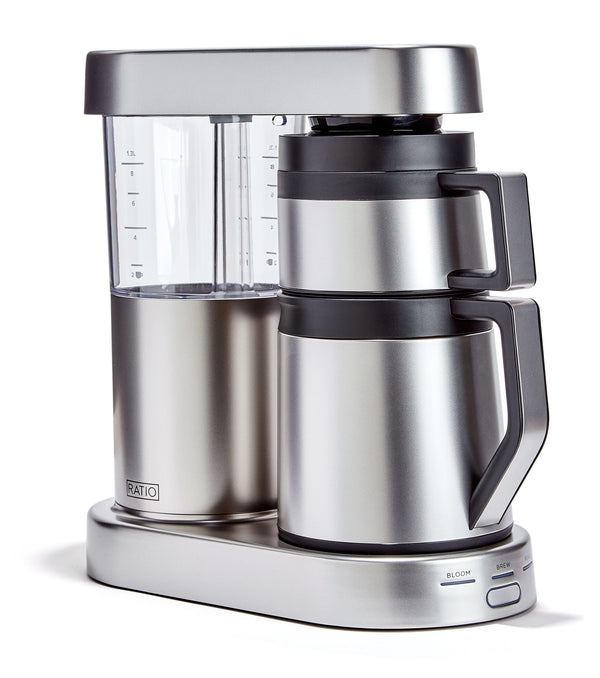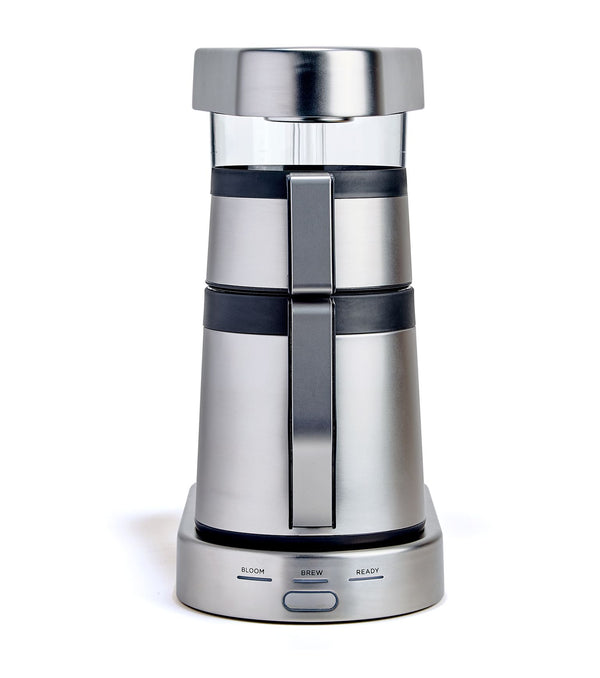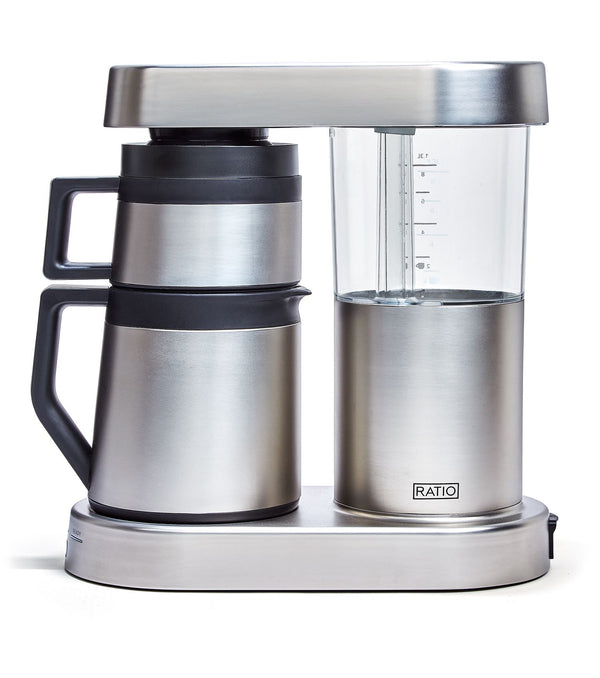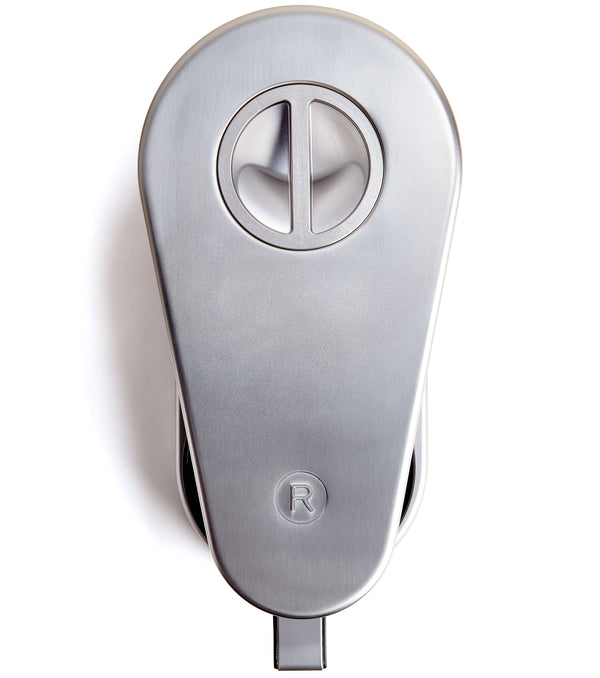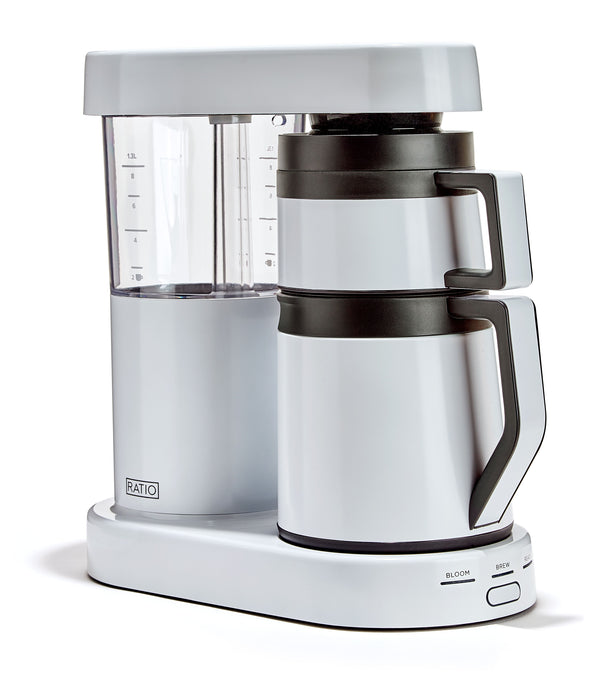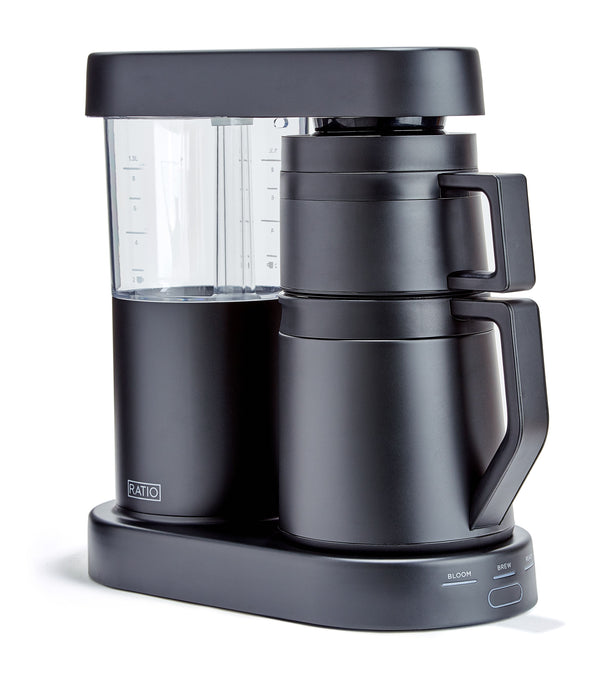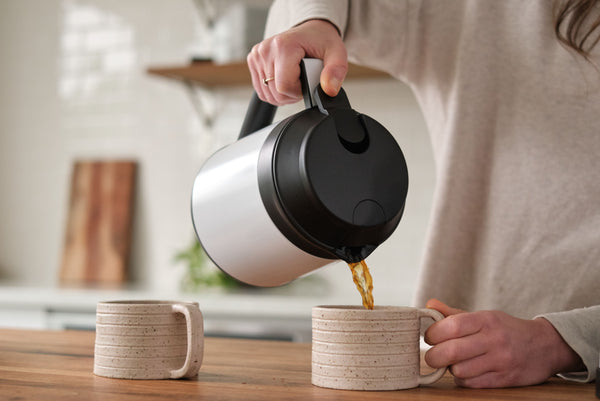 Free Shipping on all orders that include a Ratio Six. We also include a free bag of coffee (Roaster's Choice) with every Ratio order.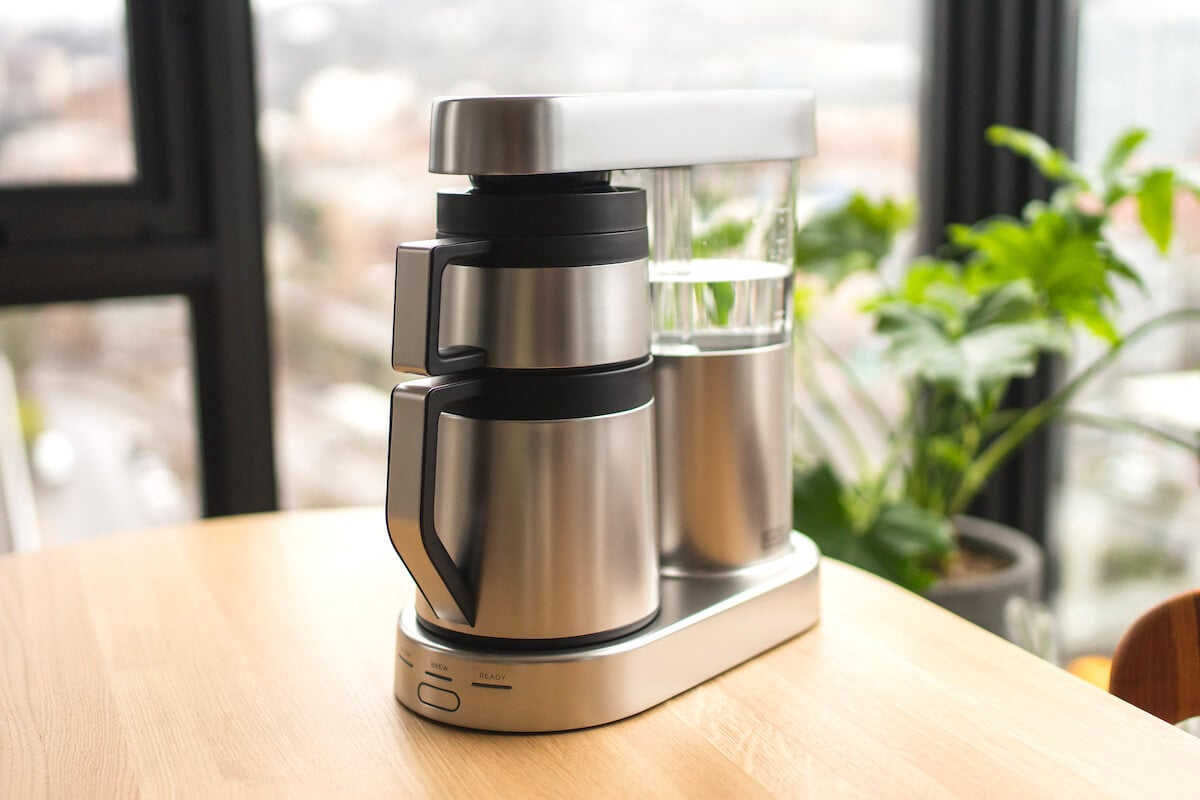 One button simplicity.
Simplify your coffee routine to the touch of a button. The Ratio Six's Bloom, Brew, and Ready phases run in sequence, delivering a perfect (and easy) cup of coffee every time.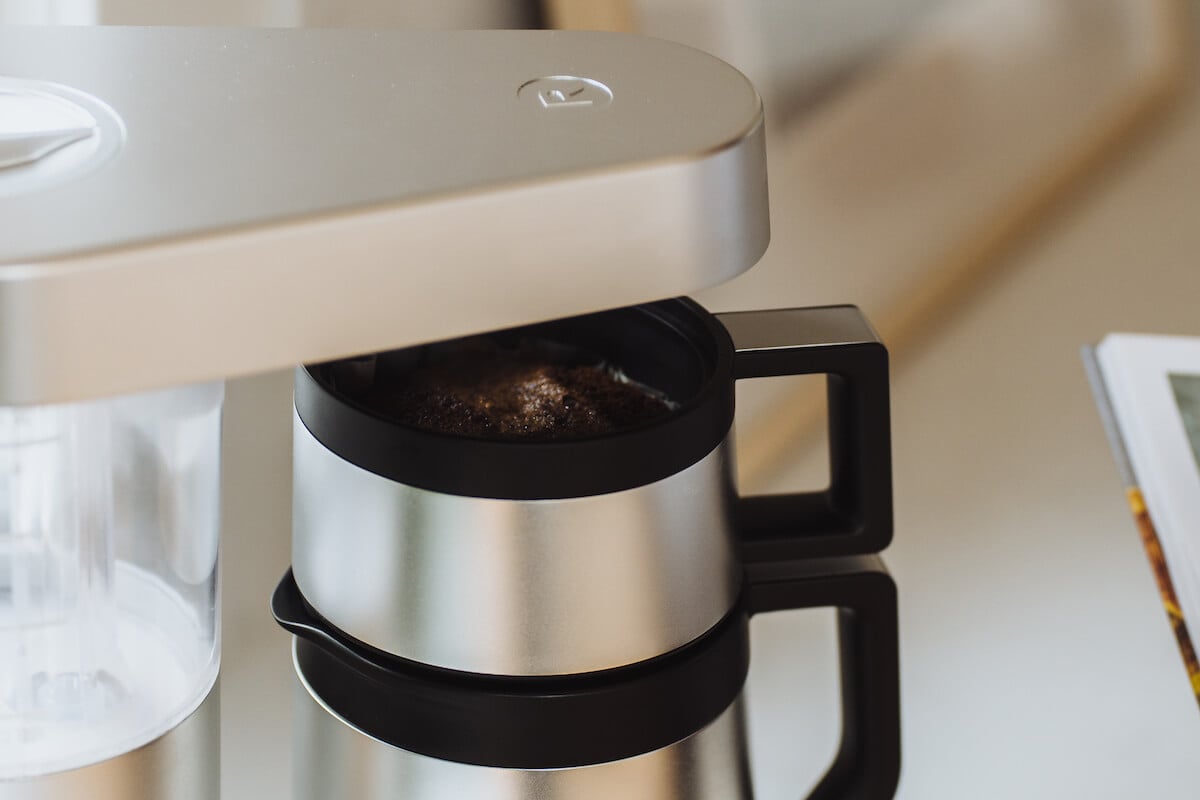 Deliciously simulated pour over.
The Ratio Six simulates a skilled barista pourover process, precisely metering water flow through both the bloom and brew phases. All of the taste. None of the work.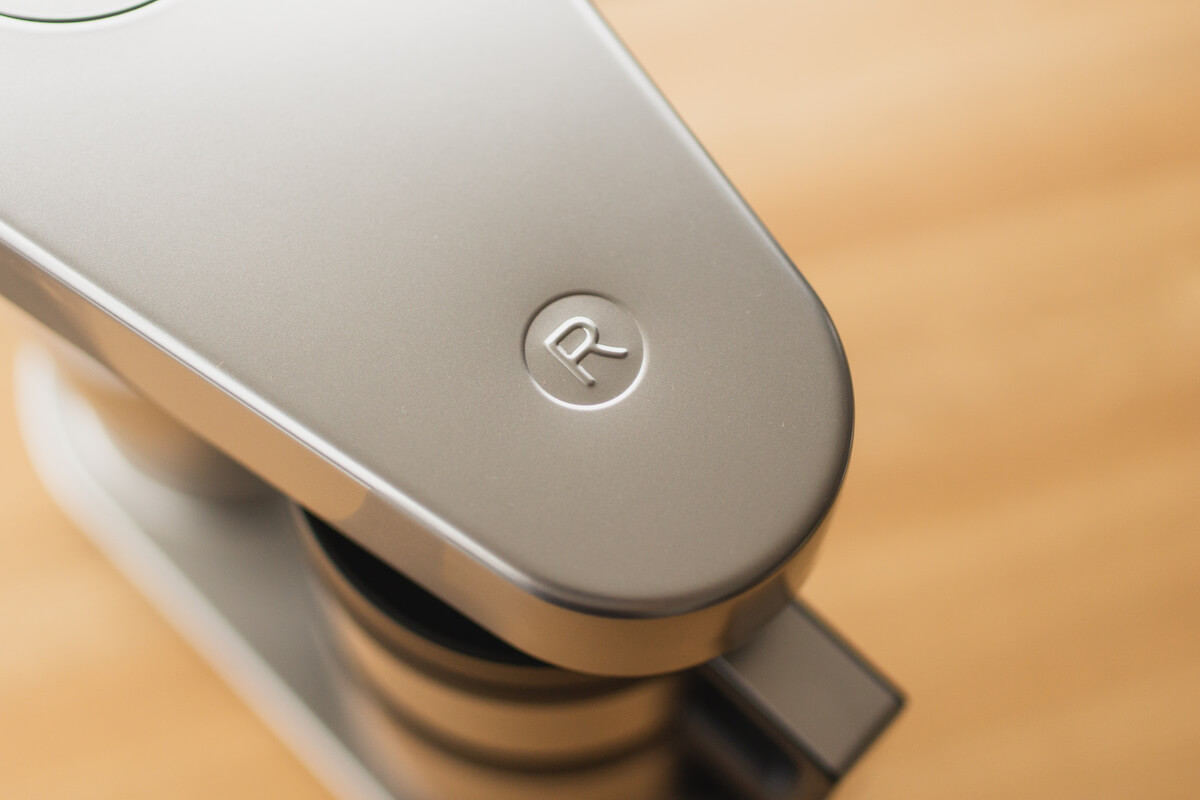 Under the hood.
Utilizing a die-cast aluminum heating element, water flows evenly through the stainless steel shower head and over the grounds at the ideal extraction temperature.
Designed for today.
And tomorrow. Ratio designed the Ratio Six for longevity with precision formed stainless steel, borosilicate glass, and high end BPA-free copolymers. Every inch is built to last and covered by a 5-year warranty.
Delicious coffee, simplified.
Just like we do at Rockwood Coffee Co., Ratio believes everyone should be able to enjoy world-class coffee without the fuss. Which is why they build coffee machines for flavor, precision, simplicity, and beauty—no more and no less. They call it "convenience without compromise." You will call it, "I'm never buying another coffee maker again."
Thanks to Ratio Six, the world's best coffee is more accessible than ever.
Less thinking, better drinking.
Sometimes you just want a great cup of coffee without having to think about time, temperature, and other variables. Which is why Ratio has just one button and no complicated programming.
After the button is pressed, Ratio simulates a skilled barista pourover process: First, hot water is dispersed through a stainless steel spiral showerhead across the grounds, causing a bubbly interaction called a "bloom." The control board allows the bloom to settle before delivering the rest of the hot water slowly near the ideal temperature (200º). The result? More evenly extracted grounds and a more amazing cup of coffee.
After brewing, simply discard or compost the used paper filter and rinse out the thermal carafe with hot water. That's it. For deep cleaning—we recommend twice a month—Ratio Wash keeps the water tank and carafe sparkling clean.
Modern quality.
There are coffee machines that make great coffee, and there are coffee machines that look great. Ratio Six is both, combining form and function.
Designed in Portland, Oregon, every Ratio machine is meticulously assembled by hand. While common appliances often have a built-in obsolescence and 1-3 year life span, every Ratio is built to last and covered by their 5-year limited warranty.
Flexible brewing.
The Ratio Six ships with a thermal carafe designed for flat-bottom basket coffee filters. Prefer a conical filter? You can also use the Ratio Eight Thermal Carafe or Glass Carafe with a Chemex paper filter or stainless steel reusable Ratio Kone. 
What's Included
Ratio Six Coffee Maker
Ratio Six Thermal Carafe + Filter Basket
Lid for Filter Basket with Heat Shield
Catcher for Filter Basket
Ratio Microfiber Towel
Basket Paper Filters - 4 sample filters
Operation guide
Removeable power cord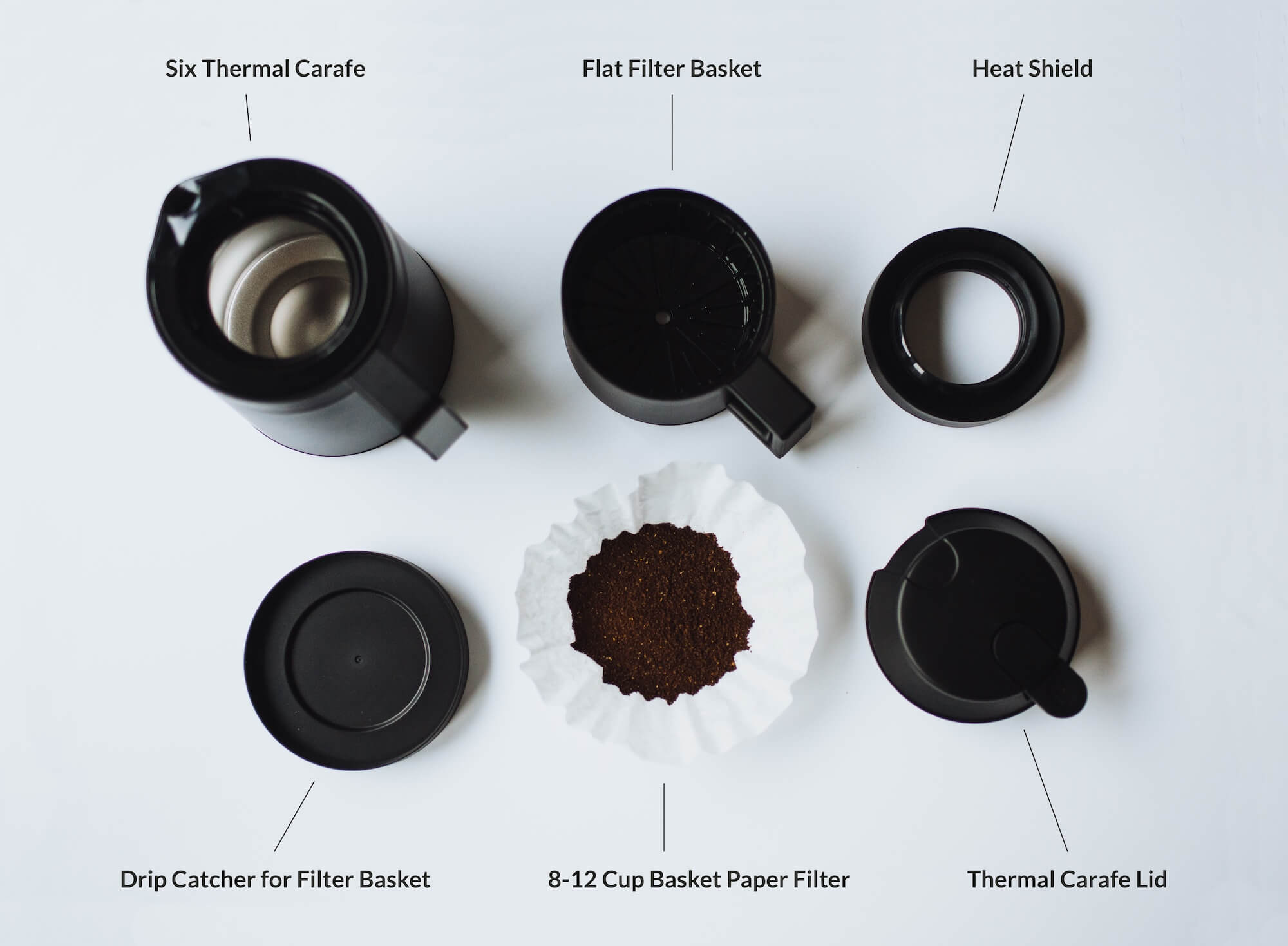 Details
Brews up to 40oz. (eight 5oz. cups)
5-year warranty
Powerful 1400 watt/120 volt heating element
Dimensions: 13.5" deep x 6.75" wide x 14.25" tall
Weight: 8 lbs
The Ratio Six coffee maker is built with thick, precision stamped stainless steel with a satin stainless steel or matte black finish
Laboratory grade handblown borosilicate glass water lines
BPA-free copolymer water tank with water markings from 2 to 8 cups, with accuracy to within 1 ounce. The tank holds 44 ounces / 1.3 liters of water at the full mark, with roughly 10% of that volume absorbed into the coffee grounds. 44 ounces poured into the water tank should yield about 40 ounces  of brewed coffee. 
The optional heat shield completely surrounds the shower head during brewing, increasing the extraction of your coffee and producing a very hot cup of coffee, all while keeping within the industry-accepted standards for coffee brewing. The coffee is typically just shy of 200 degrees F at the end of the brew cycle. For those that prefer their coffee really hot, or add lots of milk or cream, the heat shield is a great brewing accessory.
Carafe holds flat bottom basket paper filters such as Melitta
Designed in Portland, Oregon